See southwold in a new way
Send a signal to your friends. From 16th March 2023, Adnams is offering tours of Southwold Lighthouse. Our tour guides have never been fitter or smarter, as they take on its steps and soak up its stories.
We've always felt connected to this east coast icon. It towers over town, peeks into our windows, and calls out as we head home from the pub in the evening. We've even popped it on our products, like the eponymous Lighthouse pale ale. The concentric circles on its label represent the light.
Now, we get to take you around and reveal all its secrets. You'll get to look behind the scenes of its daily operation and learn the history of its role as coastal mark for passing ships, and as a beacon for vessels sailing into Southwold Harbour.
While its staircase is stunning, the highlight of this energetic experience can be found after 113 steps. At the top, you get to take in breath-taking panoramic views out to sea and across the town, including our brewery and distillery of course. You may even see as far as neighbouring Walberswick and Dunwich Forest on a clear day. The sights and its spectacular spiral staircase are an Instagrammer's dream. Without wishing to sound 'flash,' it's a must if you're heading to Southwold.
Our tours are being run in partnership with Trinity House, a charity that provides education, support and welfare to the seafaring community. It was Elizabeth I that gave them the power to build lighthouses and other sea markers and work began on ours in 1887.
Trinity House was incorporated by Henry VIII back in 1514, and in 2014 celebrated 500 years of keeping shipping and people safe on the seas. To commemorate their 500th anniversary, we produced a special neck label for our Lighthouse beer bottles and they hosted an abseil challenge, which saw a few of our team take part. That's not on offer today I'm afraid. We're keeping you safely inside.
Just like Adnams, the Lighthouse's foundations are firmly in the town. In fact, they go down 20 feet into the rock, right outside the Sole Bay Inn. Nothing says 'seaside' like sitting in the shadow of its 100ft tower on a hot summer's day. Tours include a voucher for a rewarding drink from their bar. There you can relax, soak up the atmosphere, and congratulate each other after conquering those steps. You also receive a 10% discount voucher for our retail stores, to pick up a reminder of your visit to our hometown. Maybe that bottle of Lighthouse?
Tours are available all year round, with increased availability during peak season. Please check the Tours & Experiences pages of our website for details, visitor advice, and to book your place.
Let's take you to the top of our world!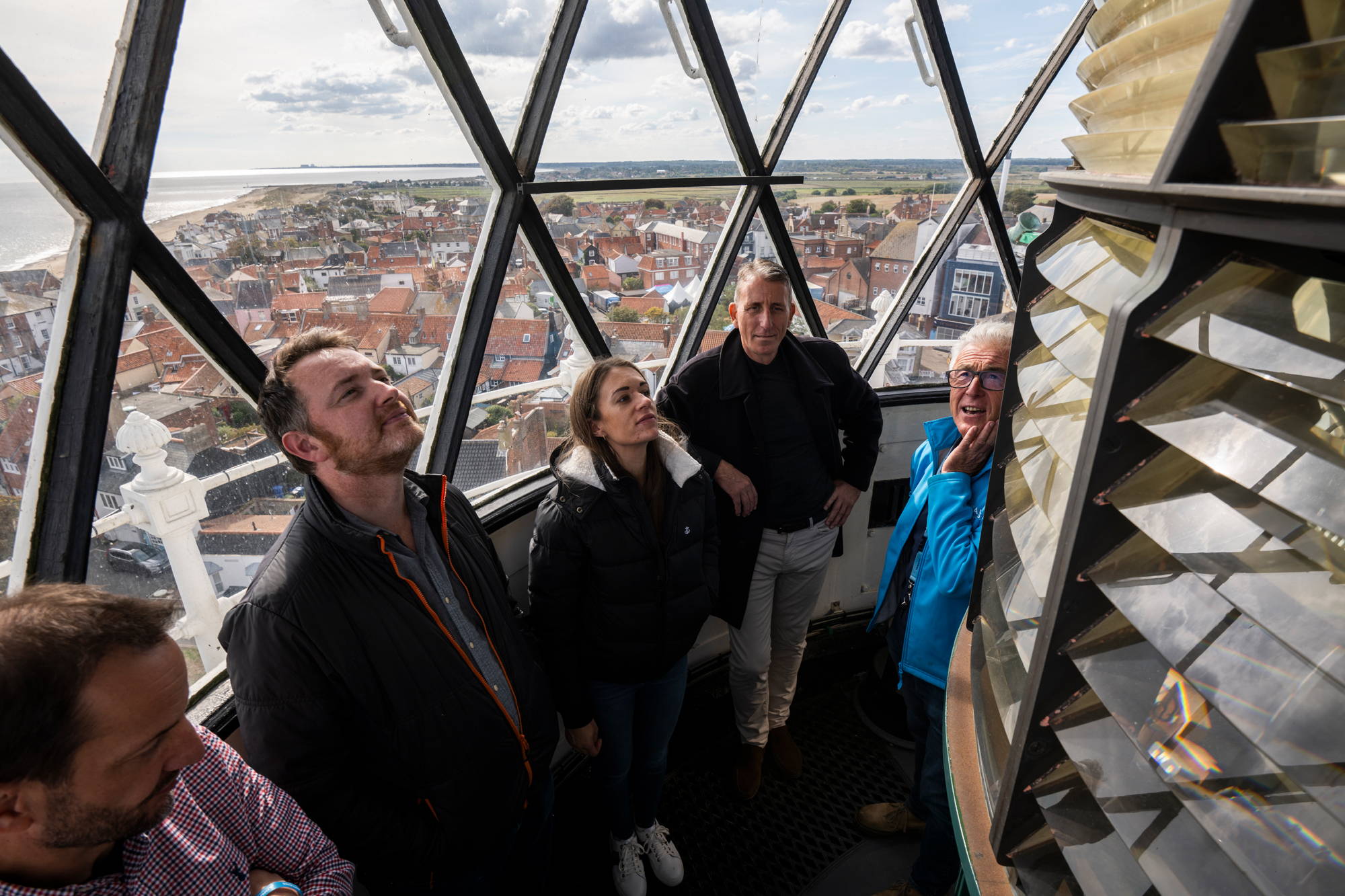 Share