One big weekend. One very special beer. Social enterprise, the Good Beer Co, is teaming up with pubs, bars, and breweries all over the UK to celebrate kindness, community, and the Queen's Platinum Jubilee.
With the assistance of Adnams production director, Fergus Fitzgerald, a flexible recipe for a 3.5% pale ale called Thank Brew has been developed, that can be created by breweries the length and breadth of Britain. It will raise funds for good causes over the Jubilee weekend. A 0.5% beer is also being crafted by low alcohol specialists Big Drop, who are brewing and bottling it for the campaign.
James Grugeon, from The Good Beer Co, approached Adnams to help with Thank Brew. We worked with James previously on the Great Get Together. He knew we'd be supportive of the idea of bringing communities together, which is at the core of what Thank Brew and the charities it supports, is all about. From the start we wanted to make the beer as accessible as possible so decided to put a recipe together that other breweries can put their own stamp on.
Fergus explains: "We want as many breweries as possible to get involved in Thank Brew, that's why we haven't been too prescriptive with the recipe and approach. The three main requirements are it should be 3.5% abv, it should be a pale ale and it should be delicious and easy drinking. Outside of that, we encourage breweries to put their own stamp on it. It can be cask, keg, bottle or can."
Breweries from across Britain are signing up to brew the 3.5% Thank Brew, with Adnams supporting the efforts to enlist participants. Licensed premises from Cornwall to Cromarty and Anglesey to East Anglia will be selling their local brewery's versions of Thank Brew in June. All the profits from Thank Brew sales will go to help build stronger communities.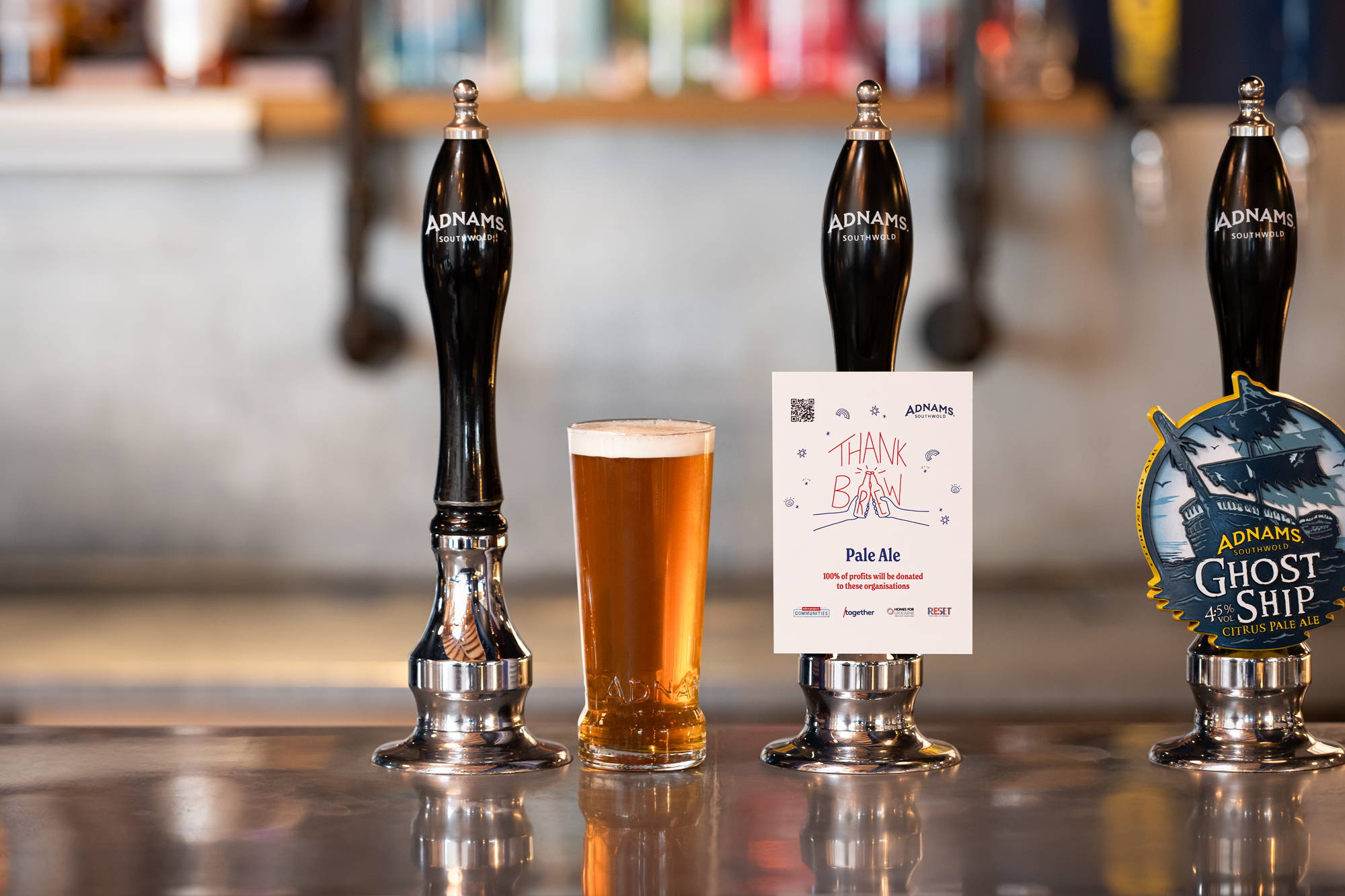 Adnams own brew is 3.5% and made with pale malts. It is crisp, light, sessionable, and just made for afternoon garden parties and alfresco celebrations. A blend of US hops, including Mosaic and newer UK varieties like Mystic, create a refreshingly fruity pale ale, with hoppy hints of blackcurrant blueberry, and tropical fruit. It will be available in Adnams managed pubs in June.
The Big Jubilee Lunch takes place between Thursday 2nd and Sunday 5th June. Communities throughout the UK are being invited to get together to share friendship, food, and fun. It's part of the Eden Project Communities' Big Lunch initiative, which helps strengthen and celebrate neighbourhoods up and down the country every year.
Thank You Day takes place on the Sunday of the Jubilee Weekend and is a chance for the whole country to toast the people and things they're grateful for and get together in the community to have fun and reconnect. It takes place this year on the Sunday of the Jubilee Weekend and is run by the Together Coalition – which includes the Football Association, ITV, the Church of England, and the British Red Cross among others.
Thank Brew is also support Ukrainian refugees arriving in the UK to live with families in communities across Britain, through Reset Communities and Refugees, the UK government's Homes for Ukraine scheme.
The campaign is also backed by the British Beer and Pub Association, UK Hospitality, the Society of Independent Brewers, the British Institute of Innkeeping, the Campaign for Real Ale (CAMRA) and other leading beer and hospitality industry bodies. CAMRA has created a handy map of breweries and pubs serving Thank Brew and hosting Big Jubilee Lunch or Thank You Day events, click here to find out more.
Share