Her Majesty The Queen will become the first British Monarch to celebrate a Platinum Jubilee after 70 years of service. To mark this auspicious occasion, Adnams has released a limited-edition, barrel-rested gin. It is the first gin to be bottled for our Distiller's Choice range, and is something rather special. It felt fitting to share it for an unprecedented jubilee.

Just 300 dedicated bottles will be made available, in a design that's unique in the range. For this limited release, Adnams First Rate gin was placed in an American oak barrel for just a few weeks. It is therefore 'barrel-rested,' rather than 'barrel-aged.'

This short time in oak has added further complexity to its already rich flavours, along with notes of toasted oak and a vanilla sweetness. It has also lifted some of our favourite characteristics, most notably the herbal hints of thyme.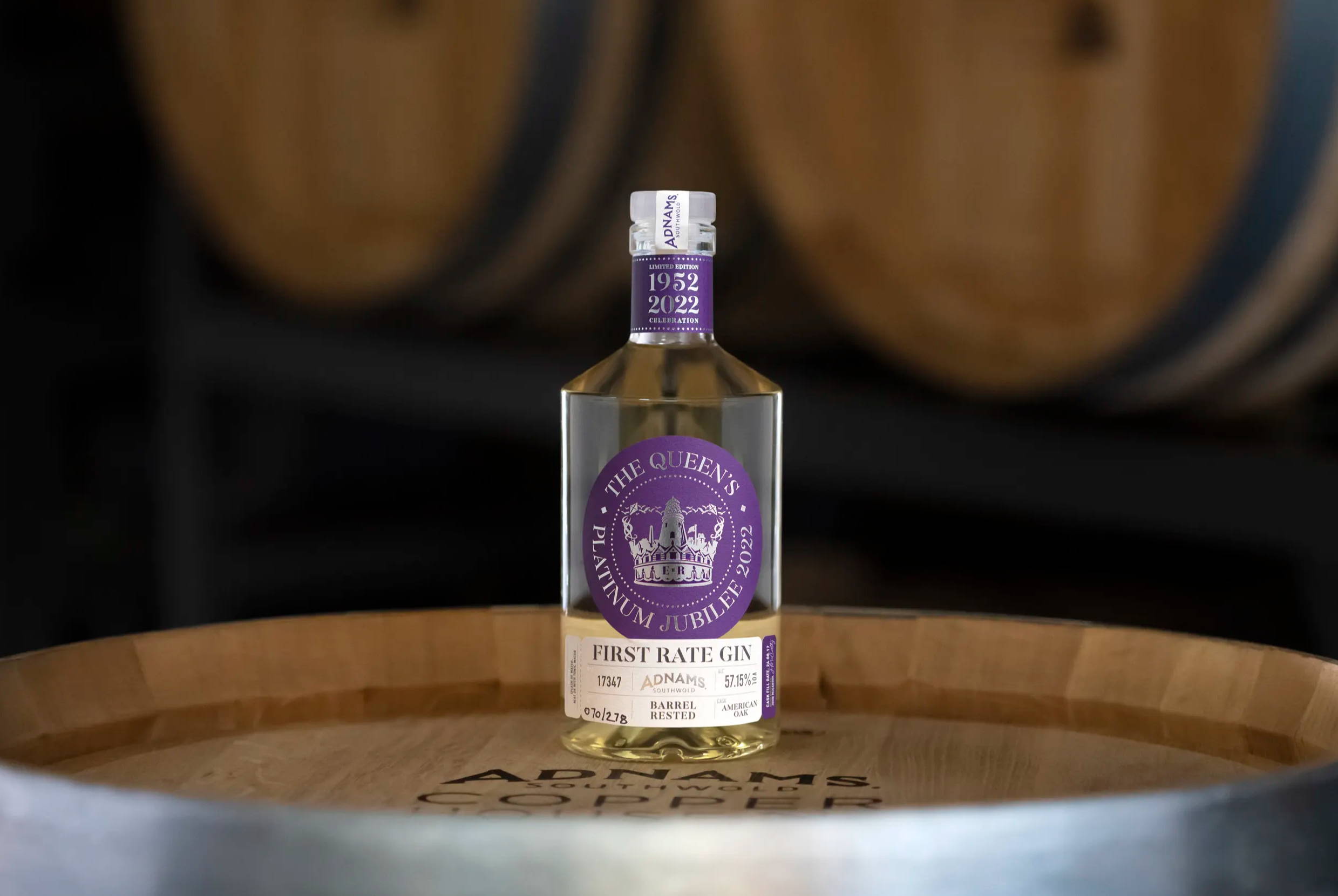 No ordinary gin
for an extraordinary reign

First Rate is made from a distillery wash of 60% malted barley, 35% wheat and 5% oats. This base spirit is exceptionally smooth thanks to its unique mash bill. It enhances the experience of this complex gin, which is distilled from a special combination of 13 botanicals.

With First Rate, you discover something different with every sip. With this expression, that experience is amplified. Aromatic garden herbs, resinous pine and citrus juniper can be found on the aroma and are joined by warming spices and citrus peel on the palate. Notes of oak and a vanilla sweetness follow and linger through the appropriately lengthy finish.

This 100 proof gin can be sipped neat with a splash of water, but our Head Distiller's preference is to taste it with Indian tonic water. For a cocktail, he thinks a Gin Old Fashioned would allow its glorious flavours of the to shine.
Head Distiller John McCarthy is looking forward to finally releasing this special gin: "Back in 2017 I filled a used American oak barrel with First Rate, checked its progress and then decanted and stored it, when I felt it was ready. I thought it tasted amazing, but we never really had an outlet for it until now. That special combination of format and occasion has finally presented itself in our Distiller's Choice range and a rare Jubilee. It is well worth the wait."Text
Share