Roasted Hispi Cabbage, Potato, Onion & Thyme Hash Brown, with Mushroom & Marmite gravy and Truffle Mayonnaise.
As we take our first steps into 2023, and we look to compensate for any over-indulgence during festive period, we are often reminded that plant-based cuisine offers benefits not only for our health and our bank balance, but for the planet as well.
It's been well documented that intensively-farmed beef and poultry are huge contributing factors to global warming, and that eating a plant-based diet does yield significant health benefits. But are we ready to swap our warming, hearty bowls of rich comfort food for kale and quinoa super salads?
Our executive chef, Edward Barker, has created a rich, delicious Veganuary recipe which offers enough comfort and indulgence to chase the winter blues away. It's also a good excuse to try out that new air fryer you got for Christmas!
"Whenever I search for inspiration for plant-based dishes for our pub and hotel restaurants, I tend to look at cuisines and cultures that already incorporate a plant-based diet. I prefer a rich heritage of vegetable cookery over a processed meat substitute all day long! And with the cost of living rising, swapping a couple of meat dishes out for a plant-based alternative will also ease the burden you your wallet," he said.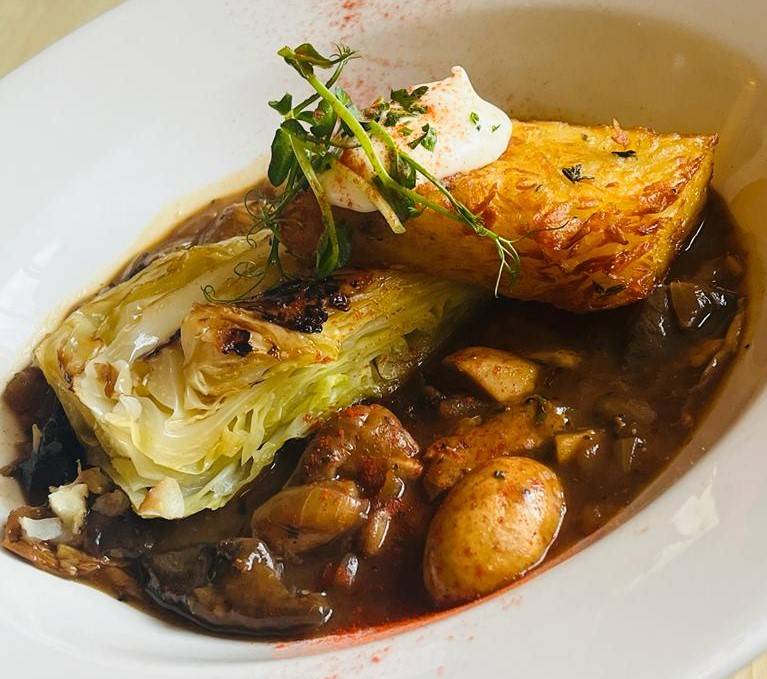 The following dish is a little adventurous for the home cook, so it's probably best to leave it for a weekend, or you can prepare the hash browns one day and finish the dish the following day.
Begin by making the hash browns, the key to success is to make them the day before and press them over night in the fridge so they really stick together. Then slice them when they are cold, to give you a clean, crisp professional finish.
For the Hash Browns
You will need:
2kg Maris Piper or King Edward potatoes
300g white onions
24g table salt
250g vegan butter or margarine
20g picked thyme leaves
Greaseproof paper
A 24cm x 24cm square baking sheet, about 5 cm deep
You will also need another baking sheet that will fit inside, alternatively wrap a thick piece of cardboard in tinfoil to press the hash brown after its cooked.
Method:
Begin by peeling and grating the potato and onion, add the salt and scrunch together. Allow to sit for 15 to 20 mins to allow the salt to draw the moisture from the potato.
Once the water has been drawn out of the potatoes, take a clean tea towel and squeeze the potato and onion mixture until dry. You may need to do this in a couple of baches. Most of the salt you added to draw out the moisture will be wrung out at this stage, leaving it perfectly seasoned.
Melt the vegan butter, either in a pan or in the microwave. In a clean bowl add the butter to the potato and onion mix, add the thyme and mix thoroughly.
Line the baking tray with greaseproof paper and then pack the hash brown mixture into the baking tray so it's an even thickness all over. Cover with another sheet of greaseproof and top with tin foil.
Bake in the oven at 180oC for an hour or until the potato is cooked. You can test if it's cooked by pushing a butter knife through the centre, it should be met with minimal resistance.
Once the hash brown is cooked, loosely lay over a sheet of greaseproof paper and then either using a tray of the same size or a thick piece of card wrapped in tin foil, press the hash brown down. Add a few tins or a stack of side plates to keep it weighed down as it cools.
Allow to cool for three hours, or ideally overnight in the fridge.
For the Cabbage and Mushroom Gravy
You will need:
1 sweetheart or Hispi Cabbage
50 ml olive oil
100g vegan butter
60g dried wild mushrooms
1 white onion, finely diced
A small amount of dried wild mushrooms (if you can find them)
200g mixed wild mushrooms.

If you can't find wild mushrooms use chestnut or button mushrooms.

2 cloves garlic, minced
1 tablespoon Marmite
½ bunch of thyme
1 tablespoon plain flour
20 ml red wine vinegar
300ml vegetable stock
Method:
Begin by trimming the outer leaves from the cabbage and cutting it in half through the stem. In a large frying pan, add the olive oil and the butter. Place the cabbage cut side down in the pan and fry until it has taken on lots of colour.
While the cabbage is frying soak the dried mushrooms in 150ml of boiling water.
When the cabbage has taken on plenty of colour, almost burnt, add the 150ml mushroom water and half the thyme. Season well with salt and pepper, cover with tin foil and roast in the oven for an hour until tender. Once the cabbage is cooked, remove from the pan and set aside. Strain the remaining liquid through a sieve and retain for later.
Wipe out the pan and add a little olive oil, sauté the onion and garlic until translucent and just starting to take on colour. Roughly chop the mixed wild mushrooms (or alternative) and add to the pan. Sauté until they are soft and have just started taking on colour.
Deglaze the pan with the red wine vinegar. Once the vinegar has almost all gone, add the flour and stir through. Add the vegetable stock, Marmite, thyme and the reserved juice from cooking the cabbage. Bring to the boil and reduce to a simmer until it reaches a gravy consistency. Season to taste.
For the Truffle Mayo
You will need:
100ml vegan mayo,
20g Dijon mustard.
10g truffle paste. If you can't find truffle paste use 25-30ml truffle oil.
Method:
Mix all the ingredients together and place into a piping bag.
To serve
You will need:
20g crispy shallots
Method:
Cut the hash browns into portions. We cut them into rectangles 15cm by 5cm. Place into an air fryer for 20 minutes at 200oC, or until they are crisp, golden brown and piping hot in the middle. If you don't have an air fryer place in a hot oven for 30 to 40 minutes.
While they cook, cut the cabbage halves in half again, and place in the oven covered with foil for 18-20 minutes or until piping hot.
Reheat the sauce in a pan. Place the sauce in the bottom of a bowl, lay the cabbage quarter to one side, and place the hash brown next to it. Top the hash browns with some dots of the truffle mayo and finish with some crispy shallots.
This is a technical dish, with lots of components and it does take a couple of days to make it properly, but the flavour you get from colouring the cabbage and then slowly braising it in mushroom stock is rich and deep.
Vegetables often contain a lot of sugar and starch, so when you make sauces and stews, they can become sweet and lack savouriness. The vinegar and marmite in this rich mushroom gravy really gives it a savoury edge, and the truffle mayo at the end gives that touch of luxury. This is a show-stopping dinner party dish. It is warming and hearty whilst also being elegant and perfect for winter.
If you'd love to try it, but would prefer to leave the cooking to the professionals, it will be on the specials board at The Five Bells in Wrentham this Veganuary.
Share