A brew with great expectations
It is always our aim to make great-tasting products, but when creating Ghost Ship 0.5%, the brewing team didn't simply have to make something delicious, it also had to taste like a well-loved and well-known beer. This is a story about a long journey and a group of plucky individuals determined to meet those great expectations.
Ghost Ship 0.5% is brewed just like our other beers, so you can count on 150 years of brewing heritage. It was crafted to taste like our best-selling brew, so you can also count on its flavour. Ghost Ship 0.5%'s tale is also the tale of Adnams' adventures with low and no beer. We were sailing to places we'd never ventured before.
To make a low-alcohol beer, there are various roads you can travel. Most of them start out the same way, with water, malt and hops, and then they take different routes towards the end of the process. With choices like dilution, or distillation, and interrupting or restricting fermentation, there are many different paths you can follow. When we began our low-and-no journey, we didn't feel like restricting fermentation was the right choice for us, as Head Brewer, Dan explains.
"Fermentation is beautiful. It is not just about the alcohol, there's lots of secondary flavours that come out from the yeast, and it also contributes to things like body and mouthfeel. It affects how that beer is perceived in the taste. So, by having that full fermentation, you can still create all those lovely fermentation characteristics from the yeast. We wanted to harness that and then gently remove the alcohol later."
Hearing of an equipment exhibition in Germany, our Chairman, Jonathan Adnams, and Production Director, Fergus Fitzgerald started the quest. There they met with GEA - recognised the world over for their process engineering know-how, and they were showing a reverse-osmosis de-alcoholising unit.
"We were excited by what we saw and so we started talking," said Dan. "They sent us some sample brews from a brewery that was using it - called Andechs, just outside Munich in Bavaria. We were blown away by what this kit could achieve."
Dan picked up the baton - and a number of kegs and set off to Germany to visit GEA's Research & Development plant. There he put Ghost Ship through its paces. "After tasting the results, it was simply a no brainer. We could brew in the normal way; adding the lovely fruity flavours you get from a full fermentation, before removing the alcohol. So Adnams invested in a de-alcoholiser specifically to make this beer."

Investigating all the options and working out how to integrate our final choice into the brewery took around a year, and then came installation. But the quest to meet everyone's expectations didn't end there. Removing alcohol from a beer alters the balance between the hops and the malt, so it still took months of tinkering to get it tasting exactly how we wanted. Once we were up and running, it took about three months of trials to get things right
Since our first installation, Ghost Ship 0.5% has down gone so well that we've had to double the capacity of our de-alcoholiser. With innovation, all our expertise, the finest East Anglian malt and bold American hops, we've created a low-alcohol beer that tastes frighteningly good. It's now our second most popular brew, and at 0.5% abv, can be enjoyed whenever and wherever the moment takes you. So just like us, now you can get out there, and sail to the places you've never ventured before.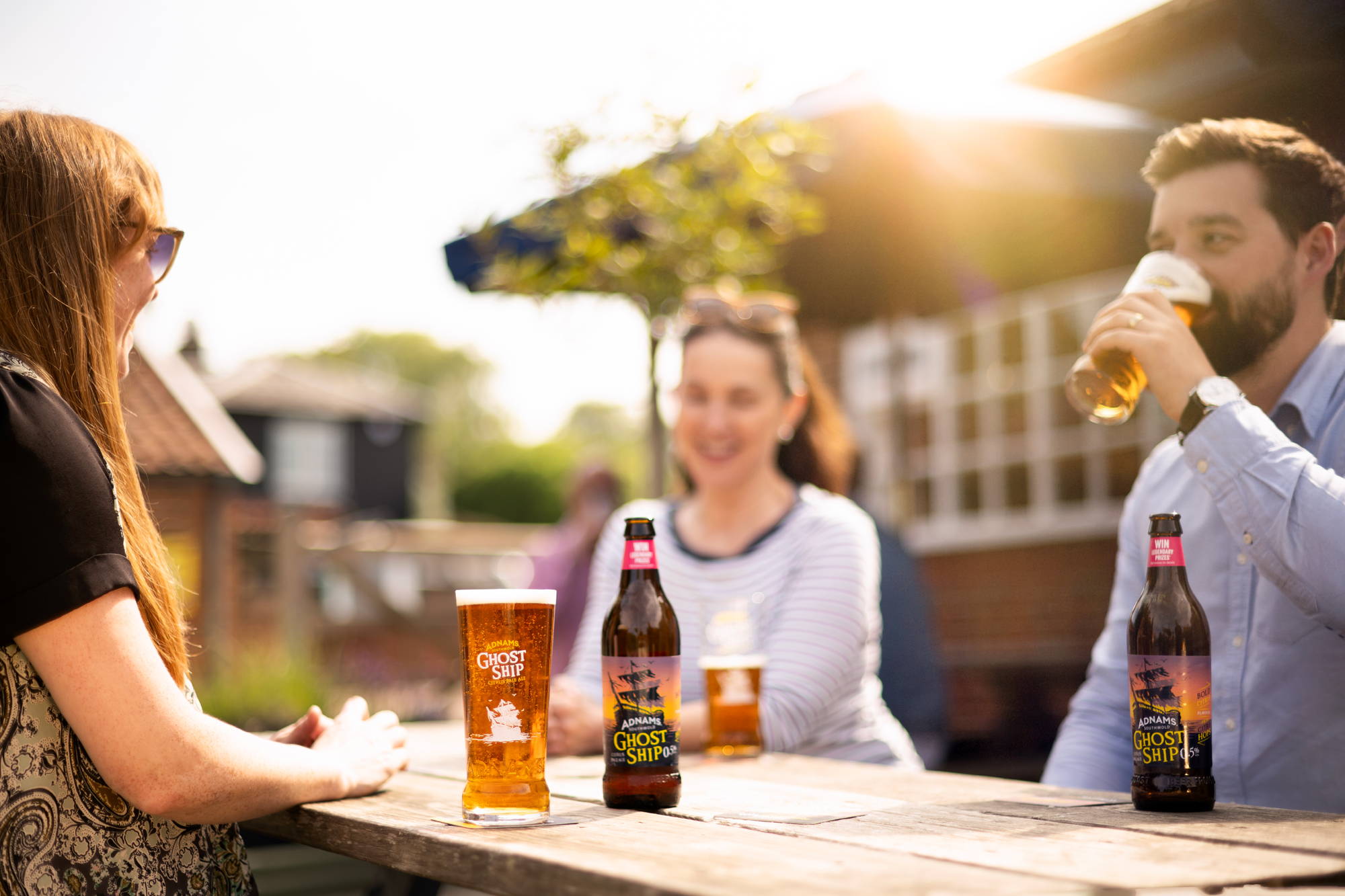 Share