For our first Southwold-brewed collaboration of 2023, we're sailing off with Siren Craft Brew. Find yourself cast adrift and shipwrecked on some unknown shore, where secret springs support a bounty of tropical fruit.
Adnams Head Brewer, Dan Gooderham and Sean Knight, Head Brewer at Siren Craft Brew, have known each other for some time and were excited to finally work together on a brew that included a cask offering. In an ocean of options, they steered towards New England and West Coast IPAs, eventually landing somewhere in between thanks to their final choice of hops.
This refreshing spring pale ale gave them the opportunity to play around with some punchy, newer US varieties. The resulting brew is a veritable smorgasbord of mango and guava flavours, subtly enhanced by a sweetish finish.
So, what caused them to drift off in this direction? "Sean wanted to pitch this beer between a New England IPA and a West Coast IPA. The middle ground being something that sits between juicy, and strong bitterness. They are starting to be called Mountain IPAs. I think the choice of hops really guided us," said Dan, reflecting on the recipe.
"We used barley from the Holkam Estate, in the form of our own Adnams Pale Ale malt. We also used some small amounts of wheat to increase the body and mouthfeel. The hops are a selection from the US. HBC586 is a new variety from the Hop Breeding Company, which is yet to be named. It is described as 'tropical.' We also used a hop called Idaho 7 which was first released in 2015. This adds a more citrus character and has hints of tropical fruit. Finally, the last big hop is Strata which comes from Indie Hops. This is full of tropical flavours, and it has a dank element to its profile.
"The first time I tasted a beer with HBC586 was two harvests ago in the US. Barth-Haas had a tasting bar with the experimental hops, on their very own farm in Yakima. The flavours were unique, and first impressions were that this was going to be a great hop to use with its tropical and citrus flavours. There have been lots of beers using Strata commercially and they all pack a serious punch. Idaho 7 was first introduced to me by Mitch Steele, Brewmaster and COO at New Realm Brewing and former Brewmaster at Stone Brewing Co. I have loved it ever since."
When we dust off the sand, we discover that Secret Springs is just 3.4%, but still packs a punch - a fruit punch. We asked Dan how they achieved this: "When brewing a beer at 3.4% abv, a delicate balance must be struck with the hops and the malt. Alcohol has a lot of perceived sweetness. In stronger alcohol IPAs there is more room for hop flavour to balance the bitterness from the hops. Having a small amount of acidity on the taste perception threshold will help to give balance to the beer. I'm really excited to find out how our yeast and these hops interplay."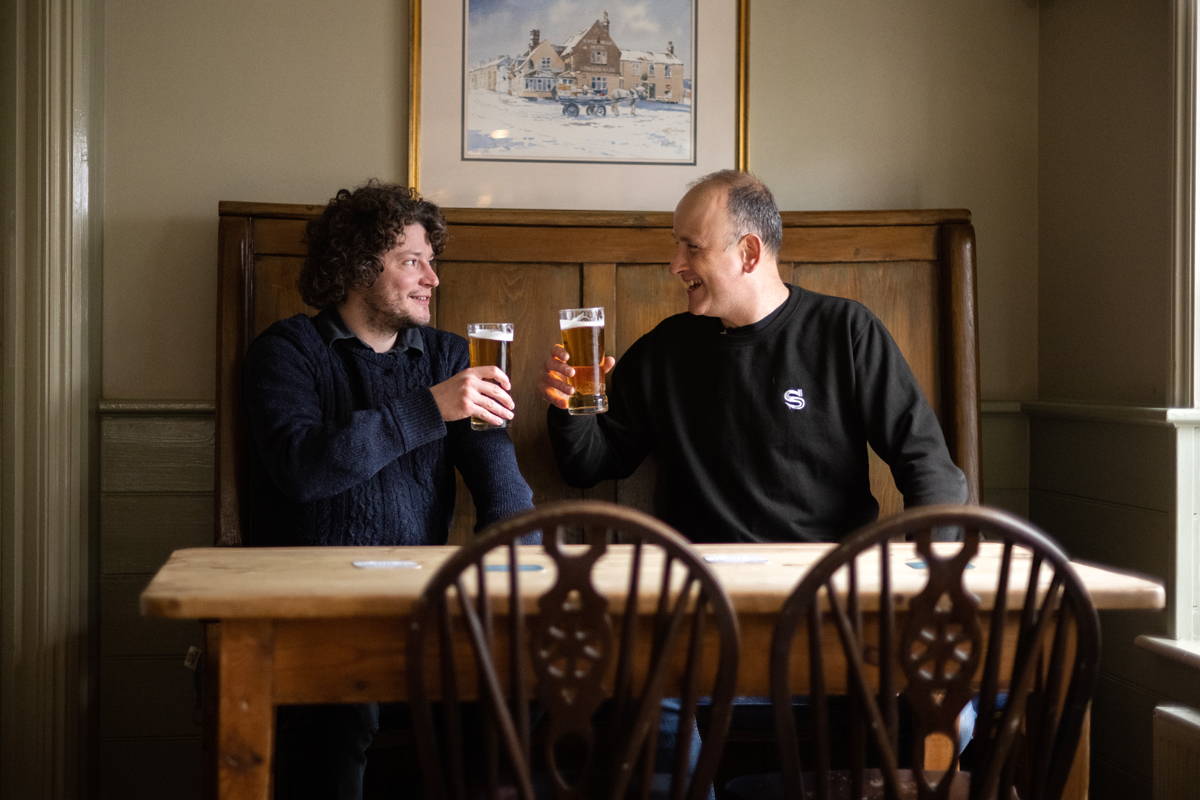 Siren Craft Brew are based in Wokingham in Berkshire. They began brewing in 2013 with a simple idea in mind - to make exciting, full-flavoured and forward-thinking beers. In 2018, they won Champion Beer of Britain with their coffee porter, Broken Dream. This year the brewery turns ten and Founder, Darron Anley, was excited at the prospect of working with Adnams. "We started back in 2013 and a couple of years in I met the Adnams team on a hop trip to the US. It's great to be working together in our 10th anniversary year. This is going to be quite a hoppy beer, especially for cask. It should be a really different interpretation alongside the keg and the can."
Dan added: "We've known Siren over the years, and it is exciting to finally be able to work with them. They make exceptionally good beer, and we always try to collaborate with likeminded brewers."
Dan recommends Secret Springs with a Goan Monkfish Curry or an Achari Cauliflower Curry. It will be available in cask, keg, and 440ml cans.

---
Share