Dave Barber (Jnr.) is standing next to a freshly varnished masterpiece, the latest incarnation of The Sole Bay Inn's pub sign. After months of painstaking research and hours tinkering with the wind and the waves, he is looking to dedicate it to Adnams in its 150th year, which also happens to coincide with the 350th anniversary of the Battle of Sole Bay.
The Barbers have their own lengthy history with Adnams, not quite 150 years, but a relationship that has seen the mantel of Adnams pub sign writer passed from father to son. They have also shared a unique level of trust that has set them up as creators and custodians of our signs. Their artistry is often the first thing you see when visiting an Adnams pub. Next time you visit, please take a step back and look up.
Dave Snr went to art college to learn his trade. Back in 1965, he was working on the Wissett Plough as an apprentice painter and decorator when it was decided it needed a new sign. He suggested it would look better with a picture, rather than just words, and John Adnams (our managing director at the time) asked him personally to take care of it. It was the beginning of a longstanding partnership.
"Dad just did what he felt was right and Adnams gave him free rein and trusted his judgement. That trust built up over the years and fortunately, it rolled on to me. Today, most of the signs just get a refresh. They will go out looking the same as when he did them. The differences, if there are any, will be that we have a slightly different style. But if they need to look like one of his, then that's what I'll do. Most of the time I would do that anyway because he did such a great job in the first place. However, I do like to put my own stamp on them when I can, and it is great to get to do them from the ground up."
Looking at his latest work, it is hard to believe that Dave wasn't initially draw to this artform, preferring the guitar pic to the paintbrush. Supplementing his gigging by assisting his father, he began to learn the trade, as he explains: "I wasn't necessarily into art at a young age. I had other interests, which I funded by working with Dad at weekends. Back then, everything was sign-written. If a van came in for branding, you would trace the old sign with charcoal and chalk and recreate it. I was subconsciously getting my eye in.
"I had no penchant for painting, but my parents had a strong work ethic. By the time I was 19, I'd had enough of gigging, but I wasn't allowed to sit and fester. My brushwork was good, from adding second coats to Dad's work, but I had to become valuable and for that I needed to start work from scratch. Little did I know, it was setting me up for my future career."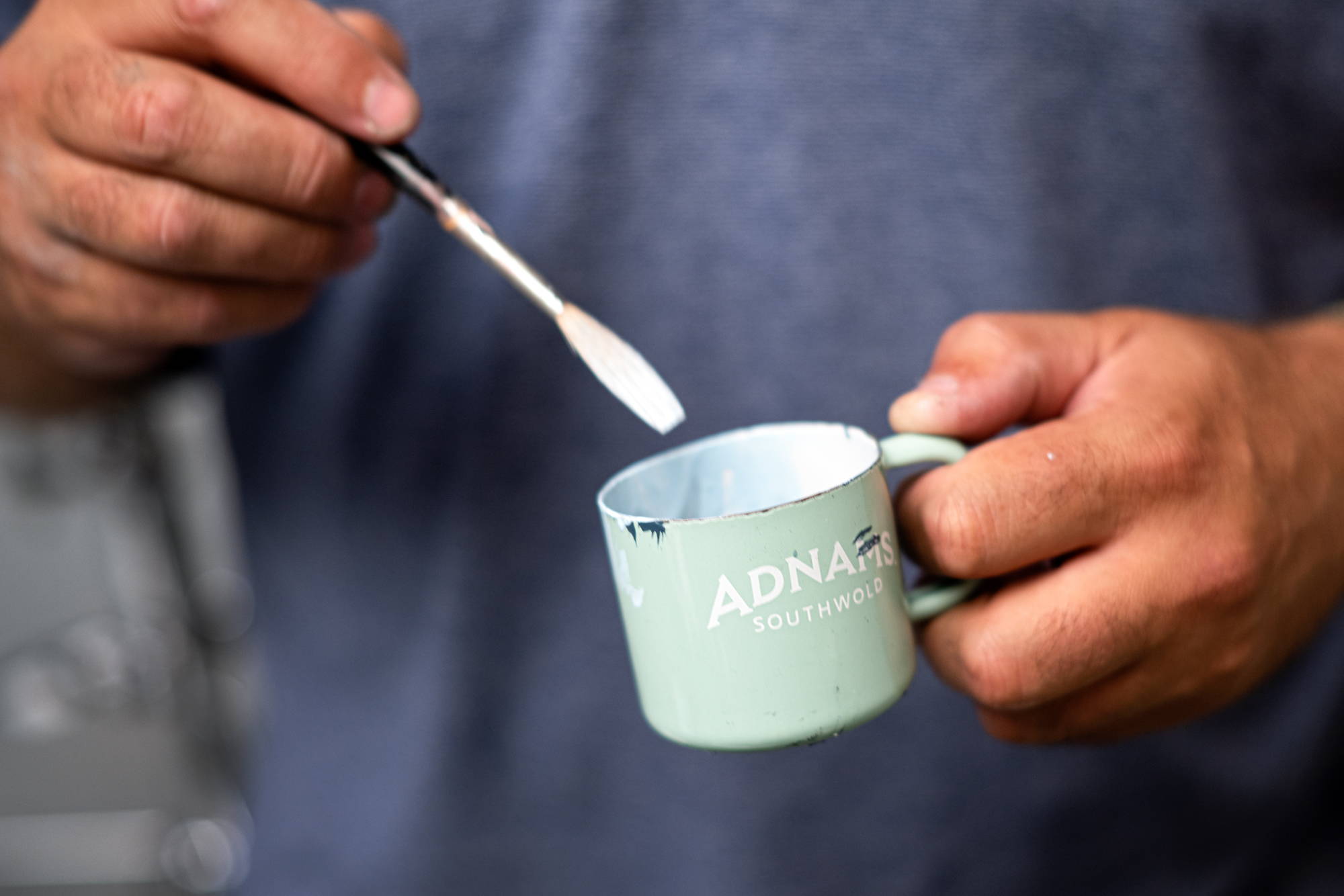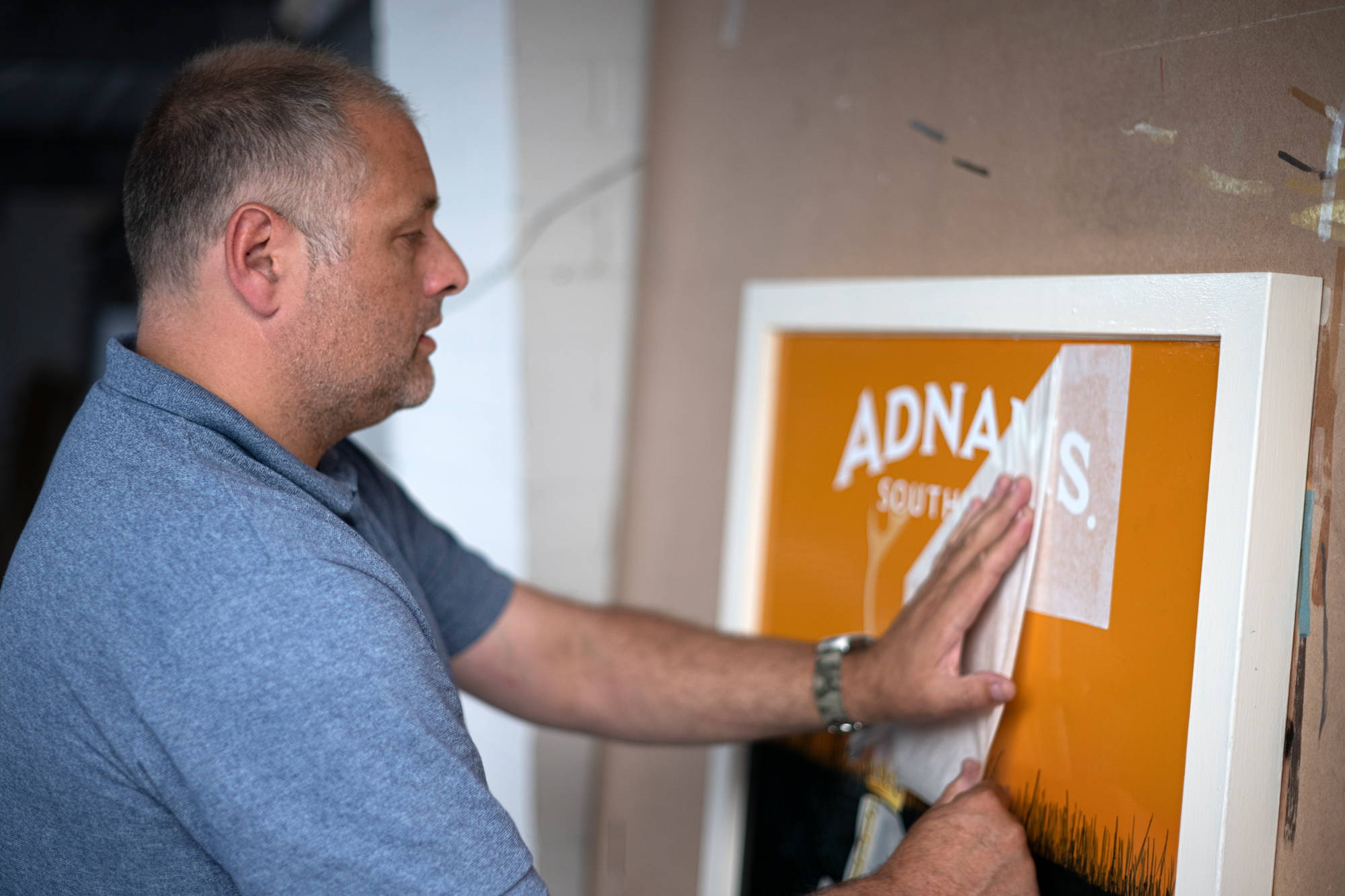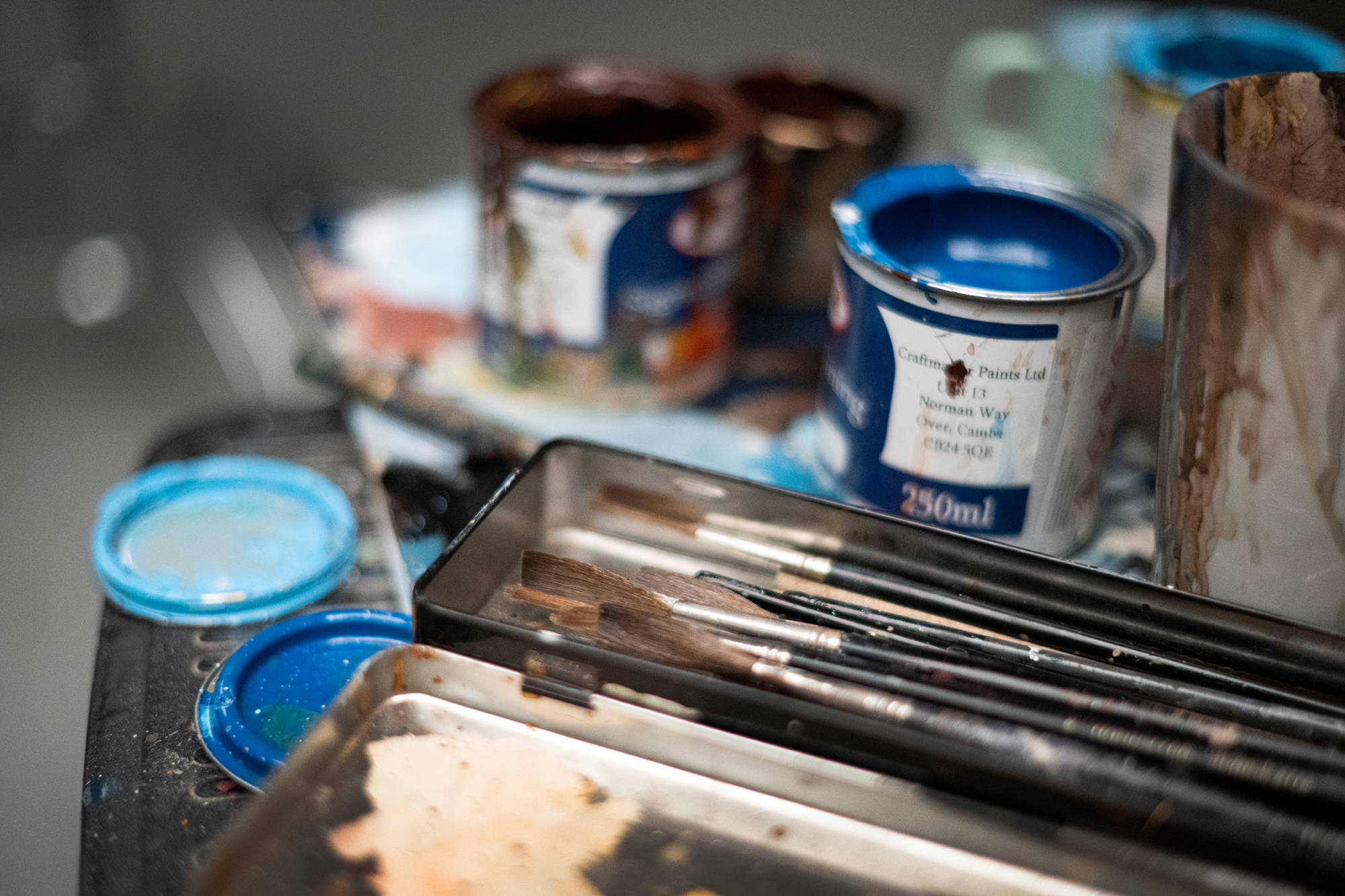 In 1996, the Barbers purchased their first vinyl cutter and looked to modernise, but Adnams still wanted their pub signs hand-painted. "Back when Adnams had its red and white logo, you had to trace the logo, tape it up, then paint the red and leave it to dry. The next day you added the black accents and the following day the white. After that you would add the shading and give the white its second coat. A sign took over a week in drying time.
"Adnams' look was based entirely on Dad's painting style and typeface. Lenny and Laurie from the brewery made the wooden swing signs back then and fitted them. To speed up the process, Dad sign-wrote the letters on paper, and they were formally tidied up and turned it into a typeface. We then used that typeface to stencil the signs and hand-shaded the letters. We could lay out a number of boards with perfect spacing and provide a print proof for approval, speeding things up."
Screen printing helped make things quicker and still involved paint, but the process continued to be slow. Later experiments to digitise the lettering went better, as technology improved. "When the logo changed to navy and orange and the typeface was updated, we were invited to be part of that change. All eyes were on us to see if we could modernise and produce signs that looked good, had longevity, and could be delivered in the timescale of a pub refurb project. We rented a bigger workshop and invested in a state-of-the-art printer," Dave recalls
Today's signs are a clever blend of both techniques. They can last up to 14 years, but Adnams tends to refurbish them more frequently. It can take up to a month to produce a new one, depending on the process. Dave uses what he needs to get the signs looking right and to make sure they stand the test of time, while trying to be as environmentally friendly as possible.
"There are a lot of things I can do in vinyl, but if there is no time advantage and no increase in longevity, then I will hand-paint it, purely because we are using less plastic. Every single sign is delivered in its own way, depending on those parameters - when do you need it, how long does it need to last, what is it going to look like, and finally is there a way of doing it where we don't use as many materials. The boards come from PJ Spillings just over the road, the Windsor & Newton brushes are made by Crown Brushes in Lowestoft, and I use UK-made paints from the Craftmaster range."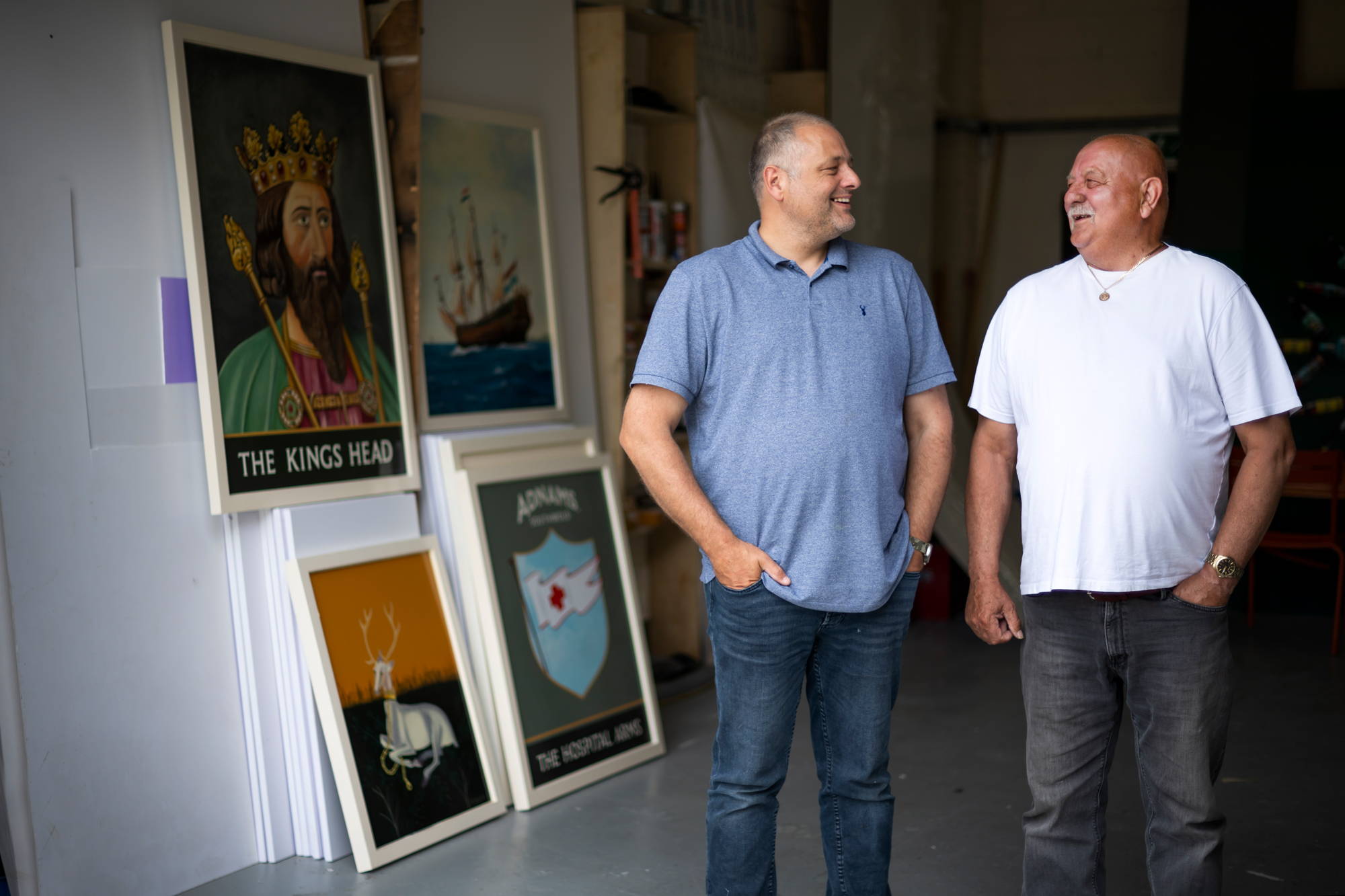 Most signs have the same image on both sides and there's a knack to achieving that symmetry, as Dave explains: "You don't do one side, trace it, and then do the other or you would never get your colours the same. This is where I've got it easy. If it was originally painted by Dad and I'm not going to change it, I trace it on both sides of a new board. Then I get the sea on one side, and I turn it around and get the sea on the other side while I've got the colours right. Both sides are brought forward equally - especially faces. Otherwise, you forget what you've done, and you can't get a nose or the eyes right. You'd have one eye facing this way and other that," he said, laughing.
"If you do what you do and you get it right, you go instantly to the other side while you've still got the muscle memory of what you've just done."
Boats and horses pose the biggest challenge: "Horses are so hard to draw, and boats just look wrong from certain angles. This is tough when a lot of Adnams stuff has a nautical theme. To do the Sole Bay, I studied the Dutch masters, visited museums, and bought around twenty books on painters like Van de Velde. Even some of them look wrong. I'm convinced that on many pictures of that period, the sails are designed to take your eyes off the hull. They appear to get more sunlight, to bring them out. Let's face it, from a distance, the ship could be from any country, but the first thing you see is the sails."
The Sole Bay's sign is a rarity, with a different image on each side. Knowing the challenge, makes you appreciate the work even more. Dave Snr first painted it in 1974, the year Dave was born, making this new rendition feel even more special. It was originally based it on an historically accurate sketch by artist and historian Alan Jobson.
As a matter of pride, both father and son have always tried to make sure they get the details right, whether it is representing the correct clan on a tartan kilt or matching an historic figure's uniform to their title. "If you were painting a sign for The Nelson you'd have one picture, but if it is The Lord Nelson, you'd have to have another. Was he an Admiral at the time and does he have the correct regalia for the period? There's a lot of detail that goes into a sign that most people wouldn't recognise, except that one expert. They must be accurate. I wouldn't want anything on there that could be called into question, as I am really proud to be entrusted with them.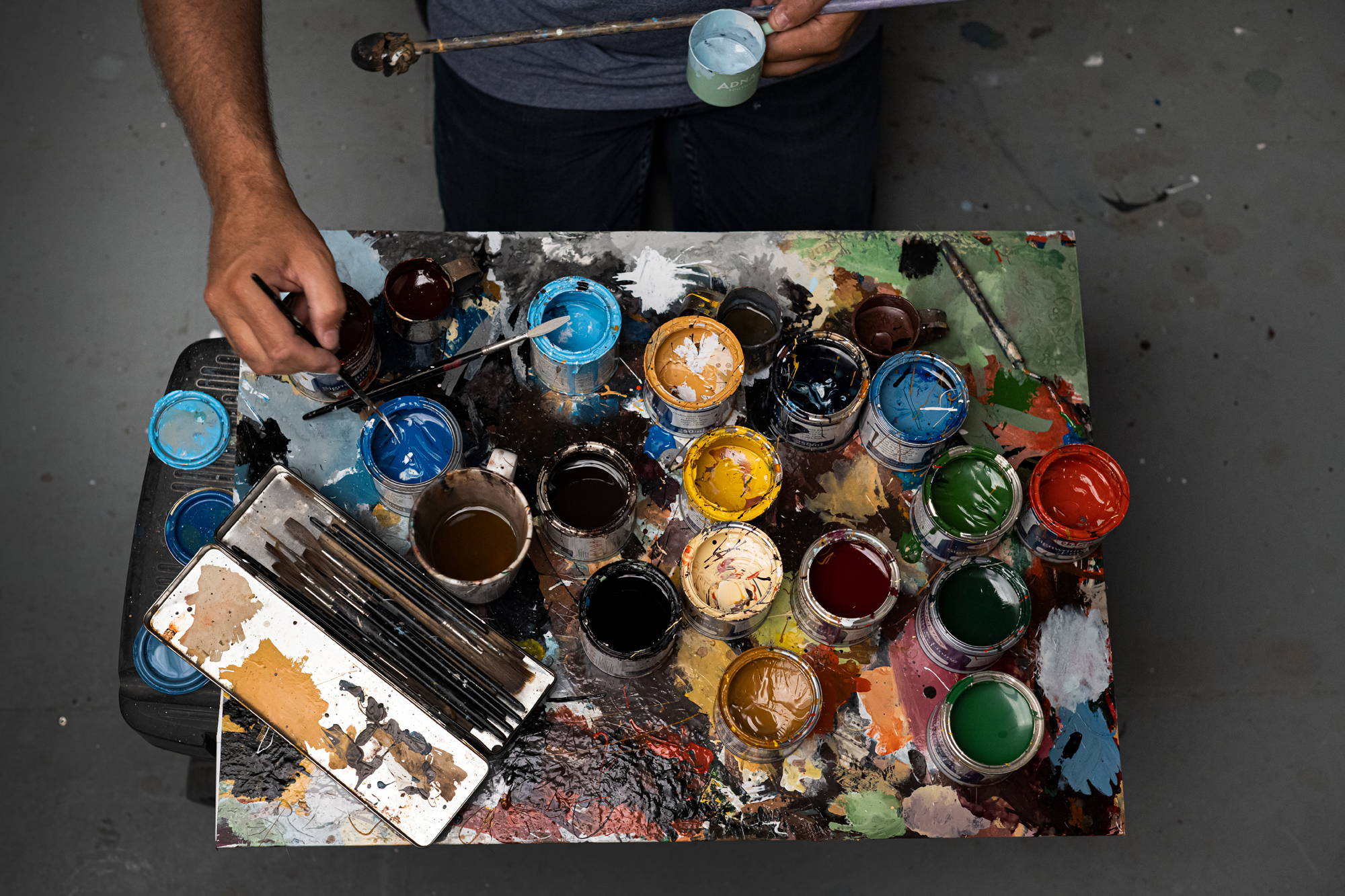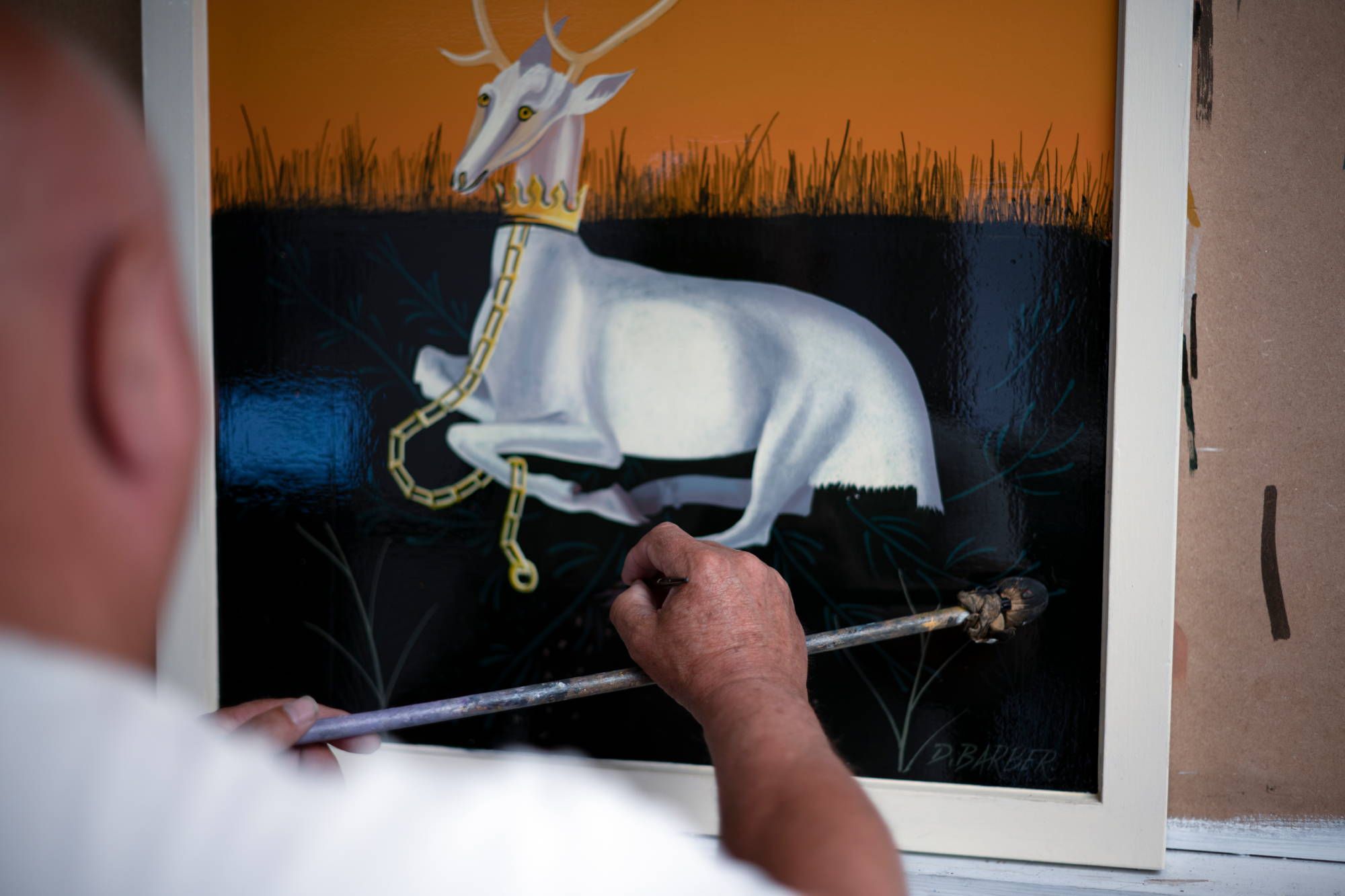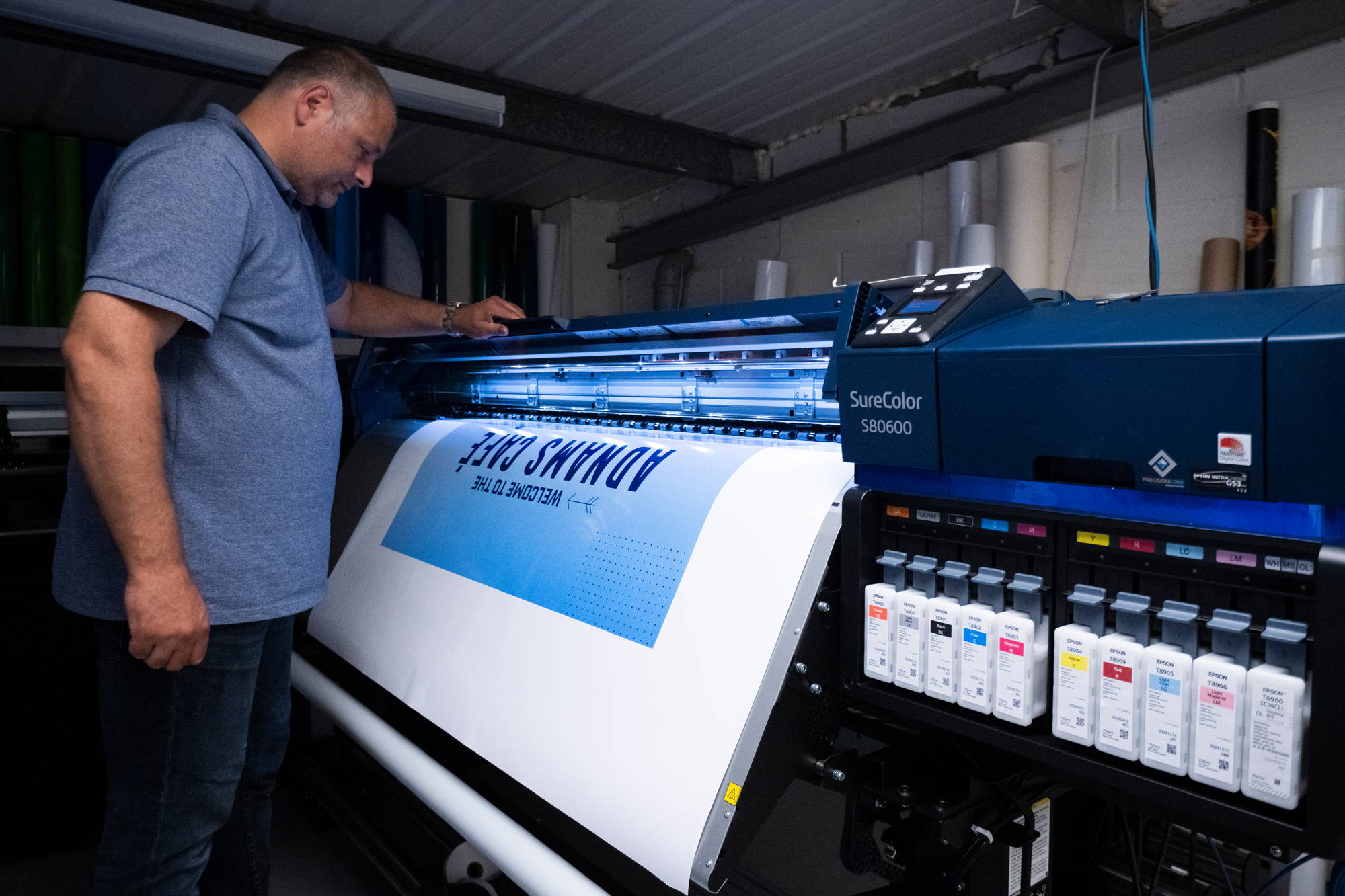 "If anyone ever asks me what I do, depending on who I am talking to and the type of conversation, I say I am a painter and leave it at that. If they are interested, the first thing I say is I do a lot of pub sign work for Adnams, and that is the opener. People never have anything other than positive things to say about Adnams and it is great to be associated. I feel proud to work with a company that has such a heritage and has manged to keep that vibe all these years. I hope my work goes some way to maintaining it."
Everything Dave does for Adnams is viewed at close quarters. All of his work is bespoke and is made to be seen, whether it is a swing sign on a pub, a banner at a beer festival, a shop window display, or the signs pointing you in the direction of the bar. That work ethic instilled by his parents shines through when he says, "It has to be as close to perfect as humanly possible."
So, what's next for Dave and his brushes? The New Moon is getting a new moon. Dave is adding some atmosphere with clouds and maybe a small ship to add a bit of interest. "It's Adnams. You have to get a ship in where you can. If you have a pub called The Horse, and that horse was in Southwold, there would be a ship in the background," he laughed.
Don't let its sails distract you from your pint.
Share