Adnams has won the 2023 'Keg Champion Award' in the Large Brewery category. The new awards programme is new and is hosted by the Steel Keg Association to celebrate leading breweries, bars and restaurants, for embracing the remarkable benefits reusable steel kegs deliver, including sustainability, efficiency and a fresh experience in the glass.
The presentation was made on June 16th - World Refill Day. World Refill Day is a global public awareness campaign designed to accelerate the transition away from single-use plastic and towards reuse systems. Over the last five years, they've built an unstoppable global movement, demonstrating that a better future is possible, and the world is ready for a refill and reuse revolution.
Picking up what can only be described as physically, the biggest award in the history of the food and beverage industry (as it is made from a bespoke beer keg), Fergus Fitzgerald, Adnams Production Director said: "Sustainability, in all its forms, has been at the heart of what we do at Adnams for generations. It's great to see the importance of pubs and bars and the use of refillable vessels being recognised. We often talk about the pub being the best place to enjoy beer, bringing people together in good times and bad, but we don't talk enough about it also being the most sustainable way of enjoying a pint, and much of that is to do with the humble steel cask and keg."
Stainless steel kegs' reusability and lifespan of over 30 years, makes them the ideal circular choice for breweries, bars and restaurants. The Steel Keg Association created the Keg Champion Awards to recognise hospitality leaders' sustainability programmes and the positive impact steel kegs have on the beverage industry.
"We are so excited for Adnams to be among the first Keg Champion Award winners as we celebrate sustainability in the hospitality industry on World Refill Day," said Dan Vorlage, Executive Director of the Steel Keg Association and MicroStar Logistics' VP of Global Marketing. "Their efforts to serve as a good citizen includes an authentic commitment to sustainable business practices. Their extensive draft beer programme is evidence of this commitment. Thanks to Keg Champions like Adnams, reusable steel kegs help remove billions of single-use containers from waste streams every year.
In addition to winning a coveted, custom-made Keg Champion Award, the Steel Keg Association will also donate £1,000 to The Adnams Community Trust, so many local good causes are also winners.
Natalie Fee, the Founder of City to Sea, the environmental not-for-profit that is behind World Refill Day added:  "On this World Refill Day we're raising a toast to Adnams as the winner of the Large Brewery category. Every pint that lands in a customer's hand from a keg is one that comes with zero single-use packaging and one that helps to embed and strengthen a truly circular packaging system. Cheers!"
The theme for this year's World Refill Day is 'Refill the Future. ' It will focus on highlighting and celebrating the incredible innovation and progress that's happening around the world when it comes to reuse, which coincided perfectly with the presentation of these inaugural awards. Visit https://www.refill.org.uk/world-refill-day/ to find our more.
In addition to our casks and kegs, Adnams has refill stations in its stores in Southwold, Woodbridge, and Bury St Edmunds.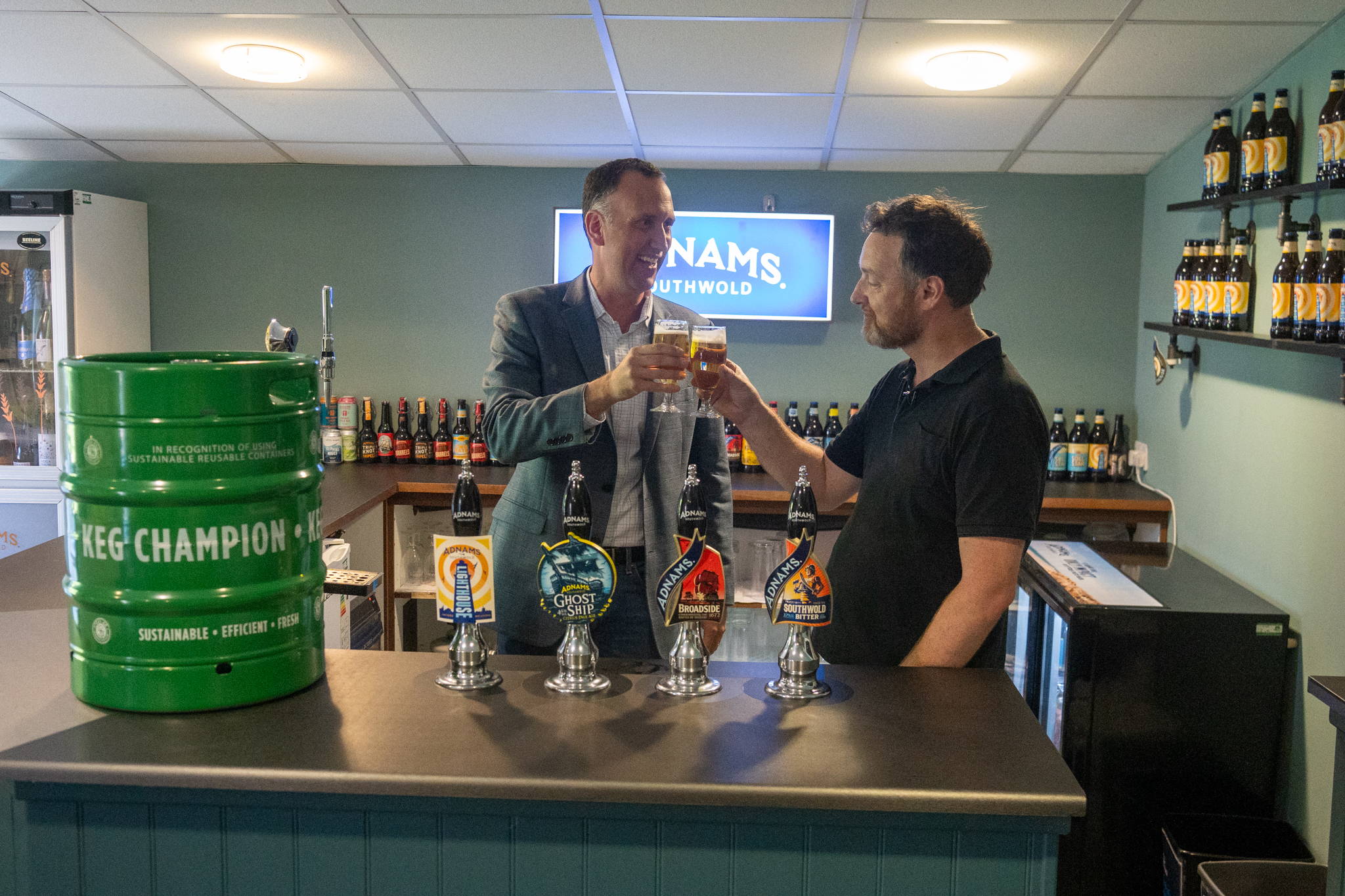 Share