In the spirit of sharing, Adnams has collaborated with Suffolk-born artist, Maggi Hambling CBE, on a one-off release Triple Malt Whisky, called 6PM. Only 187 bottles have been created with all proceeds from the sale of this collector's item will be going to The Adnams Community Trust, which awards grants to worthy causes, for the benefit of those living within a 25-mile radius of Southwold.
Maggi is a British artist. Though principally a painter her best-known public works are the sculptures A Conversation with Oscar Wilde and A Sculpture for Mary Wollstonecraft in London, and the 4-metre-high steel Scallop on Aldeburgh beach, Suffolk. The whisky release's name, 6PM, is inspired by Hambling's working day and the label shows a self-portrait, evoking herself enjoying a whisky whilst pausing for thought.
This unique and exciting expression crafted by Adnams Head Distiller, John McCarthy, is a triple-grain spirit made from East Anglian malted wheat, barley, and oats. "To collaborate with Maggi on this limited-edition whisky truly feels like a love letter to Suffolk, and therefore fitting it will benefit The Community Trust," he said.
When Adnams started the Copper House Distillery, John initially invested in a limited number of new barrels from the Speyside Cooperage, before settling on Radoux for creating the whisky range. This makes this first fill spirit matured in barrel SPEYAO one of Adnams rarer releases. Barrel SPEYAO is made of American Oak and has a Medium Plus toasting. The spirit was from Gyle 22090, which was a three-grain wash of primarily wheat, with barley and oats. Its abv at bottling was 66% and it is non-chill filtered.
This particular whisky was selected by Hambling for its layered characteristics, to echo her work. Upfront aromas of fresh coconut and cocoa are followed by light floral notes and underlying hints of marzipan. Notes of honey, vanilla and orchard fruits of apricot and red apples follow on the palate with a sweet chocolate finish.
6PM is available in a limited-edition run, and packaged in a magnetic closure presentation box, with gold foiling and ribbon tab.

This limited edition whisky is £350 a bottle.
To order your exclusive bottle, simply visit one of our Adnams stores, call us on 01502 727200 or email us at 6pmwhisky@adnams.co.uk.

*Adnams plc, Sole Bay Brewery, Southwold, Suffolk IP18 6JW. Company Number: 31114. The Adnams Community Trust is an independent organisation, registered charity number 1000203.


"My working day in the studio begins at 6am with a drawing and ends at 6pm with a whisky."


The Label's Original Artwork:
Self-Portrait with Whisky
Oil on canvas
2016 (Private Collection)
12 x 10 inches
© Maggi Hambling
The Whisky:
Style: Triple Grain Whisky
Distillery wash: Wheat, Barley, Oats
Maturation: First Fill American Oak
Age: 10 Years
ABV: 66% 
Tasting Profile:
Nose: Freshly Pared Coconut, Marzipan, Cocoa, Floral.
Palate: Honey, Coconut, Sweet Vanilla, Orchard Fruit (Apples & Apricots).
Finish: Sweet Chocolate, Red Apples.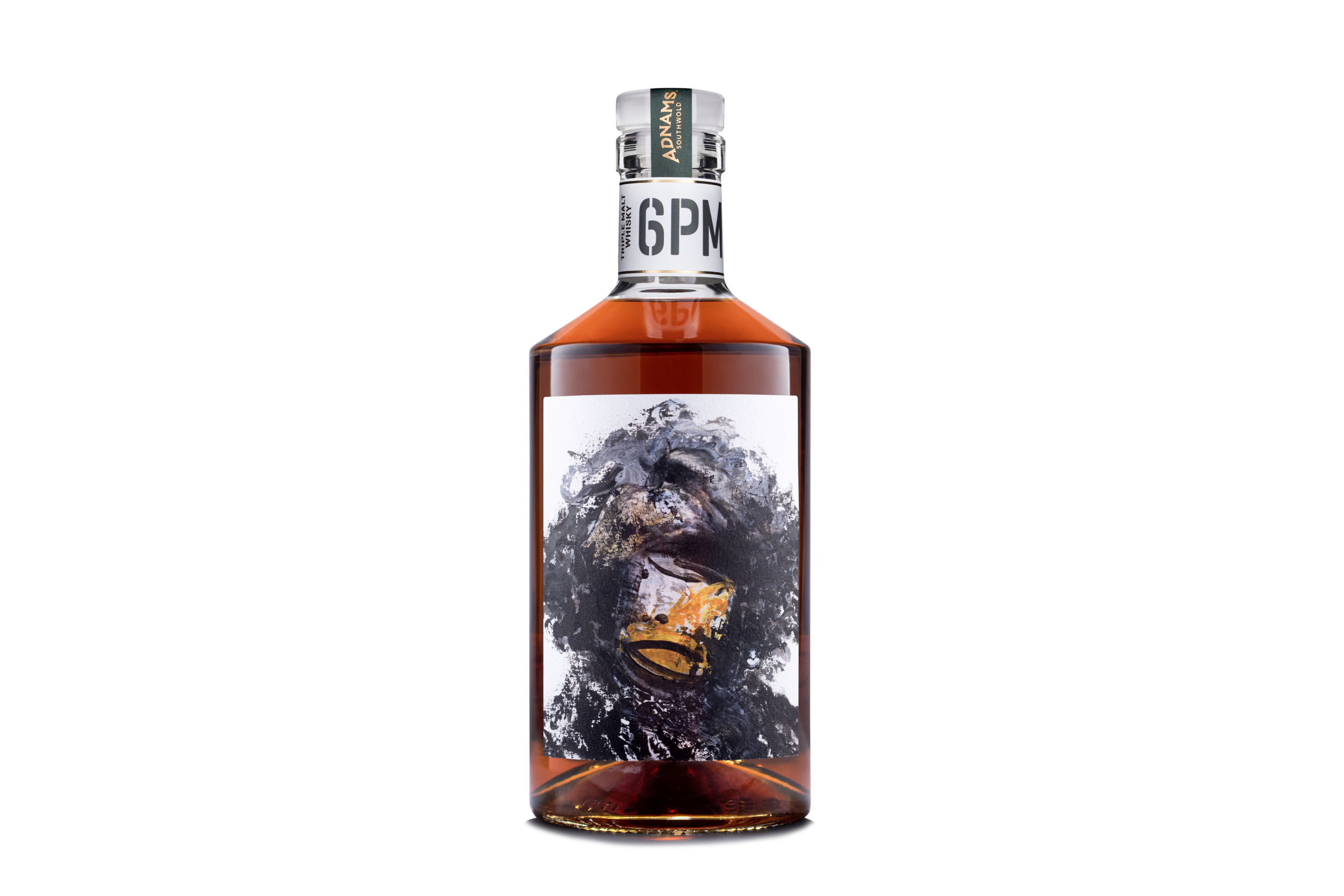 ---
Share