---
In the spirit of togetherness and in celebration of the role of the worldwide beer community in Adnams 150-year history, we've crafted Eastern Edge with US brewers Sierra Nevada.
During the first lockdown, Adnams production director, Fergus Fitzgerald, joined a group of brewers called the International Craft Brewer's Fellowship for zoom drinks. Scott Jennings, Sierra Nevada's Innovation Brewmaster, was part of that group, and when we started talking about who we'd like to collaborate with during our 150th year, Sierra Nevada was always at the top of the list for Fergus.
"I think we see lots of similarities between our two breweries. Sierra, like us, value independence. It is not easy to achieve and even harder to maintain for as long as we have. While we may be older, Sierra are part of that founding group of American craft beer breweries, in much the same way I think of Adnams as part of the founding group of UK cask beer breweries. They've also managed to stay true to their heritage and still be relevant in the ever-changing craft beer world." "They are also very aware of their sense of place. They have a connection to their environment and the desire to balance its protection with their progress," he added.
Both our hometowns have an influential vista on their eastern edge. For Adnams, it's the sea and for Sierra Nevada, it's the mountains. Both features could be viewed as a boundary, but instead, they have inspired our outlook, and our mutual respect for the environment. "That similar outlook is always something we look for when partnering up. Sustainability has been a key focus for them. It's a bit sunnier over there, so solar power is a bit easier but even still, they have led the way in their approach to sustainable brewing," he said.
Steve Grossman, Brewery Ambassador at Sierra Nevada Brewing Co. echoed these sentiments: "Finding like-minded brewers, sharing stories, and collaborating on a new beer recipe over a pint or two – it's truly one of the most unique and amazing things about the craft beer industry. Being invited by Adnams to collaborate on a brew to help commemorate its 150th anniversary was sincerely a great honour. Hopefully the good folks of Adnams will celebrate with Sierra Nevada when our brewery marks its 150th anniversary!"
"American Cascade and Chinook are important parts of Sierra Nevada's Pale Ale, so we decided to source some UK grown hops of the same variety. The provenance of hops has a huge influence on their characteristics and the flavour and aroma expressed, much like wine and the 'terroir'. We're excited to see the results. Sierra's innovation around dry hopping and the fact Southwold Bitter is dry hopped in cask, meant that this process was going to be a must, especially for the cask version of Eastern Edge." For this truly transatlantic collaboration, even Sierra Nevada's yeast also made the journey to Suffolk, as Dan explains: "Adnams house yeast, which has been used since the 1920's, and Sierra Nevada's 'Chico' yeast, have given the breweries their distinct flavours for many years. We thought that it would be interesting to have the yeasts work in tandem, to have a true collaboration."
Head Brewer, Dan Gooderham, was excited to develop the recipe for Eastern Edge, as the brewery hosted brewer Scott, who made the trip to Southwold. "This collaboration brew has been inspired by two key beers for our breweries from the last 40 years namely Sierra Nevada's Pale Ale and Adnams' cask Southwold Bitter. Our Chairman, Jonathan Adnams grows his own rye, so that was a priority when deciding on the malt bill, and it also adds balance to some big hop additions.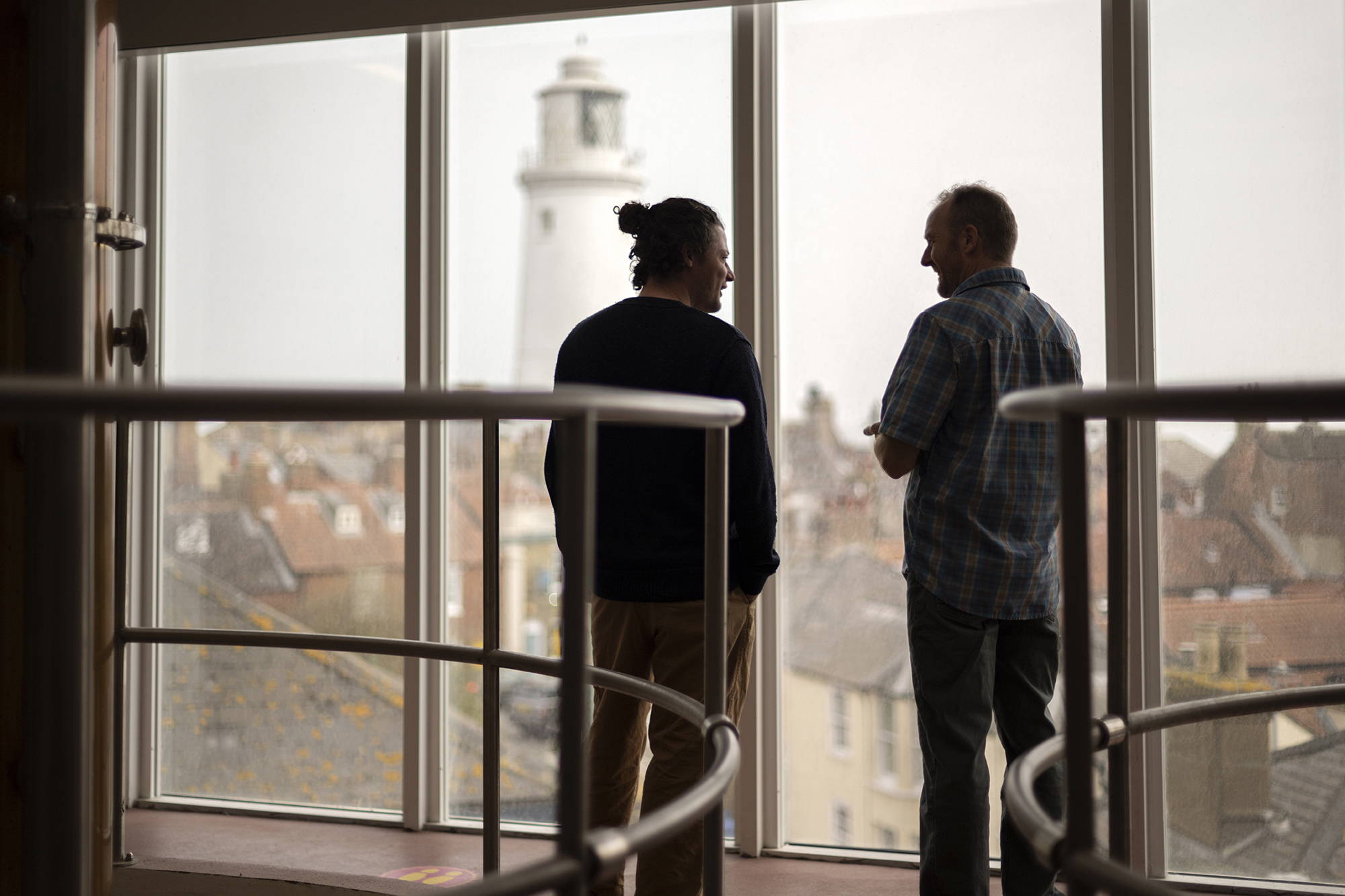 ---
Eastern Edge is brewed with both UK and US varieties of Cascade and Chinook hops. You'll find floral and resinous aromas and flavours of grapefruit, lychee, and pineapple. A spicy, biscuity balance is provided by Pale Ale and Cara malts, and rye grown by our Chairman, Jonathan Adnams.
So, grab your cans or order a pint before you head outside, and enjoy the view. We recommend Easter Edge with spicy dishes, and outdoor fayre. Get stuck into Vegetable Enchiladas, or messy, barbecued delights like Campfire Burgers.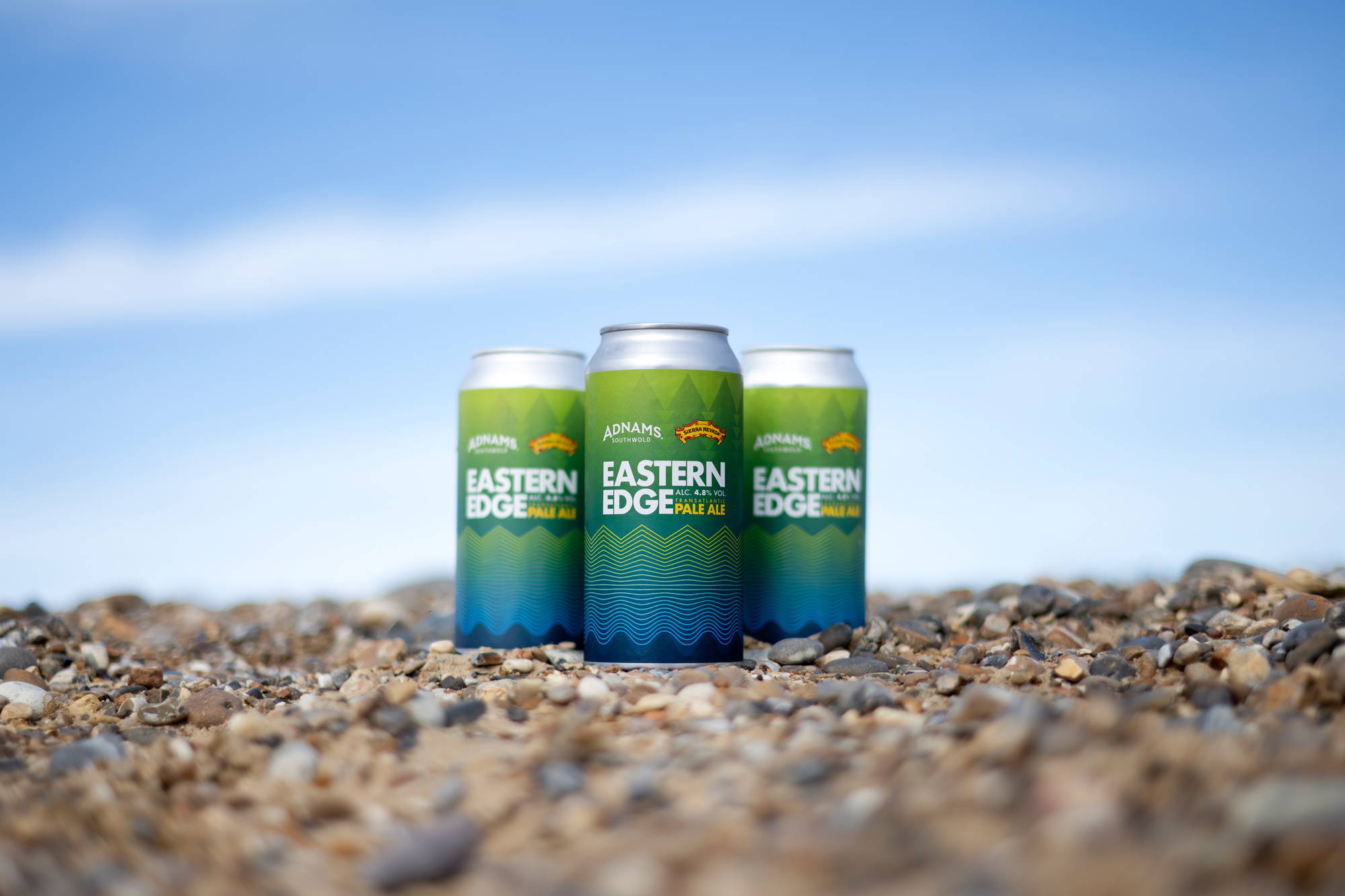 4.8% ABV
HOPS: Cascade (UK & US), Chinook (UK & US)
MALTS: Cara, Pale Ale, Rye
YEAST: Adnams & Sierra Nevada
IBU: 35
COLOUR: Pale gold
---
Share